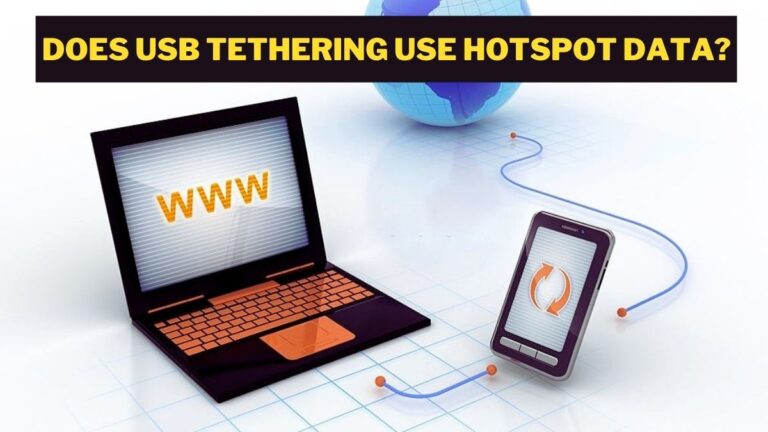 Does USB Tethering Use Hotspot Data?
\While connecting your smartphone and PC through USB, you might wonder that does USB tethering use hotspot data of your phone? Is the unlimited package that you just subscribed is being used by the USB tethering?
Well, let's not confuse things up. Mobile hotspot is somewhat different from USB tethering. Any device, such as a PC or laptop, can use a mobile phone's internet connection using hotspot data. Tethering is the process of transferring documents, files, or data from cell phone to laptop or vice versa, through USB, so it doesn't consume hotspot data.
Sometimes, you need to connect your mobile phone with other devices such as laptops or PC. In such cases, tethering is an option for you. Tethering refers to connecting the computer to the smartphone in order to utilize the mobile phone's data.
Tethering can be performed in different ways:
Using USB cable
Wireless tethering
Through Bluetooth
Through Wi-Fi
However, USB tethering is considered as safest and fastest among all methods.
What Is USB Tethering?
Sometimes you might be out of options, like the availability of Bluetooth or Wi-Fi. Still, you have to transfer any data from your smartphone to other devices such as a laptop. In such a situation, you might end up asking yourself how to share the internet without a hotspot or Bluetooth? USB tethering is the solution here.
So, what is USB tethering? When you connect your smartphone to another device by plugging the phone into the USB port of the device, such as a laptop or personal computer, this is called USB tethering.
The USB tethering enables the devices like PC or laptops to access the internet by using a mobile phone's data connection. So, all you need is a USB cable and you are ready to perform USB tethering.
The option of USB tethering only appears when you use a USB cable to connect your PC and smartphone. For Windows 10 and beyond, USB tethering does not require any driver or application to be installed, however, they were required in the older versions of Windows. Similarly, for Ubuntu version 14.04 LTS.
If you want to share mobile data via USB tethering, you have to turn on your mobile data during the process of tethering through a USB cable.
Does Tethering Use Data or Hotspot?
It is important to know that USB tethering does not use any hotspot data. The process of sharing mobile internet via USB cable is known as tethering. It should be noted that it does not consume any hotspot data, but uses the mobile phone's general data connection for internet access.
However, you should know that if you use a USB cable to connect your laptop or any other computer, you will be able to access the internet from this device using the mobile data connection. On the other hand, if you are using Wi-Fi for tethering, the hotspot might be consumed as it uses wireless internet connectivity.
Does Bluetooth Tethering Use Hotspot Data?
Just like USB tethering, the Bluetooth tethering does not rely on any hotspot data. You can use your Bluetooth connectivity to share internet connection with other devices like PC or laptop.
So, now let's assume that you are having Bluetooth tethering enabled with your smartphone and another device connected to your PC via Bluetooth. It should be noted that sharing data through Bluetooth consumes data from the mobile phone's general internet connection, rather than hotspot data.
How To Enable USB Tethering?
Well, there are two different ways to enable your PC or laptop for USB tethering.
Method 1: Using Phone Setting
The first way is by using the Settings panel on your smartphone. The process of enabling USB tethering via Settings is described below:
1. Open the Settings panel on your phone.
2. Tap "More connection settings" option to expand the menu.
3. Select "Tethering and portable hotspot" option under the Internet connection section.
4. Enable the USB tethering option.
5. Choose the USB connection option from "Portable Wi-Fi hotspot" drop down menu to share mobile data with other devices.
6. Enter the name of your device in "Network SSID" option to identify your device when other devices are trying to connect through Bluetooth.
7. Enter the password in "Password" field to secure your device from unauthorized access.
Method 2: Using Connectify Software
The second way to enable your device for USB tethering is by using the Connectify software. The process of enabling USB tethering via Connectify software is described below:
1. Download and install the Connectify software on your PC.
2. Launch the Connectify software on your desktop or laptop.
3. Click on the "Wi-Fi Hotspot" button to activate the software.
4. Select USB tethering option from the options menu to enable USB tethering.
5. Check the "Automatically share this connection with your hotspot devices" option to connect other devices easily.
6. You can also check the "Share your connection from:" option to enable internet sharing through a wired Ethernet connection.
7. Select the SSID name which you want to share with other devices.
8. Enter the password in "Password" field, if required.
9. Click on the "Start Hotspot" button and wait for a while to activate your hotspot.
That's it. Now you can access the internet from your device via USB tethering.
Does USB Tethering Use More Data Than Hotspot?
USB tethering vs hotspot, which one is faster? Which one is better in terms of consuming less mobile data and battery?
Well, hotspots and USB tethering, both are different types of internet sharing techniques. They both have pros and cons, so let us see which option is better in terms of speed and data consumption.
Both are technologies of the modern digital era, enabling different devices to connect and share internet data. However, they are quite different in many regards.
Let's compare these technologies to find out which one is better than the other;
USB tethering is a very fast process and requires a high-speed connection. A hotspot is comparatively slower in terms of internet sharing and requires a medium internet connection.
The battery consumption is low in the case of USB tethering, whereas, the hotspot consumes more battery.
USB tethering is simply a connection between different devices, like smartphones, tablets, PC or laptops, through a USB cable. Whereas, hotspots provide internet through wireless access points. The access point is linked to the gateway or router. These days, hotspots are often found in almost all public places.
Multiple devices can access the hotspot easily, while tethering is only limited to few devices, since it may require the installation of software or drive for connecting to a device.
Does USB tethering use more data than hotspot? No, not at all, the consumption of data by hotspot is very high as compared to USB tethering which uses less data.
So, whether you talk about hotspot or USB tethering, both of them are modern technologies, both having pros and cons. However, more people prefer hotspots over tethering as almost every device nowadays, is a Wi-Fi device. In case, you have to tether only one device, USB tethering is preferred because it is a fast and more reliable method.