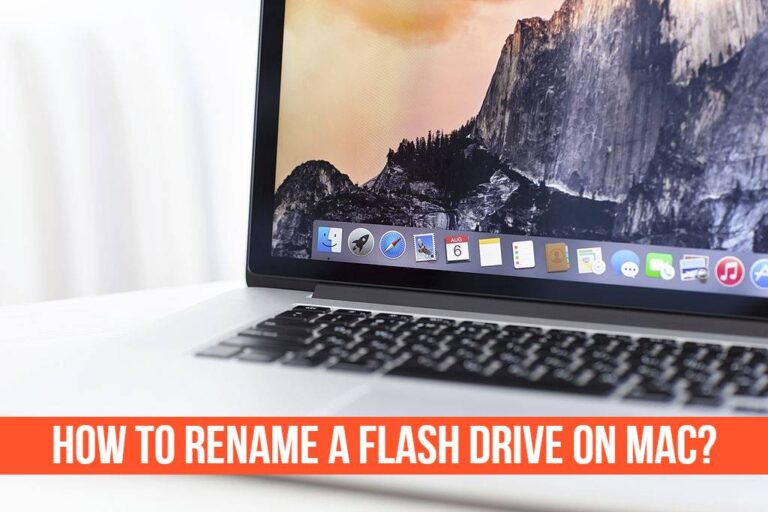 How To Rename a Flash Drive on Mac?
Do you want to learn how to rename a flash drive on Mac? Well, it's not a tough row to hoe, a few simple steps will help you in renaming your memory drive within a matter of minutes.
Sometimes, while working on Mac, you have a number of flash drives, and you don't want to mingle up the data. In such cases, giving different names or renaming each flash drive would make it easier for you to recognize which file is containing which document or data. Now, the question arises that how to rename a flash drive on Mac?
First of all, let's understand what a flash drive is and why would you want to rename it. A flash drive, or USB Drive for some people is a storage device that can be inserted into the port on your Mac and open like an external hard drive would be. You can add files, delete files, and even format them from a flash drive.
Flash drives are very helpful in transferring data from one computer to another, or from one location to another location.
Reason Why people want to change or rename a flash drive:
There can be a number of reasons why people want to rename a flash drive on Mac. Some of them are given below:
It's easier to recognize different flash drive by giving it a proper name. For example, if you have different flash drives with the names, "LULU", "GUMBALL", and "BUBBLE GUM". It will be easier for you to remember that which flash drive is containing what data.
To give a different name to your flash drive from the one that was assigned by default.
In order to differentiate between different flash drives of different sizes.
Some people change names to some funny names according to their mood.
To use more than one flash drive with the same name, but on different ports.
You might be aware of the purpose of a flash drive or storage drive, but it's important to learn how to use them securely and effectively, in order to save your flash drive and computer device from potential loss or any sort of damage.
Renaming a flash drive enables the easy recognition of a particular drive from many different drives if you have several flash drives. It also helps in avoiding mixing up your files and folders. So, when you will need a particular file, you will definitely recognize it by the name you gave it.
In case you are familiar with the windows version of the computer, you might know that upon insertion of flash drive into the USB port, the computer recognizes it as 'Removable Disc' for windows 7 while 'USB Drive' for Windows 10. These are just default names. For Mac, the default name can be 'Lexar' or 'Kingston', depending upon which storage disc you have inserted.
The method to rename a flash drive in Mac computers is a bit different than doing the same in windows versions of computers.
Read our article on: Funny Flash Drive Names to get ideas about naming your USB drive.
How To Rename a Flash Drive on Mac – Two Methods
Let me guide you through step-by-step instructions that how do I rename a flash drive on my Mac.
Method 1
The first method is a simple method where you highlight the default name of the flash drive and then type the name you want to give it. Here is how you do it:
Step 1:
Plug in the flash drive into the USB port of the Mac.
Allow the computer device to recognize the storage drive and pop up the icon.
Step 2:
Locate the memory card on the desktop of your Mac computer.
Click on its icon.
Allow the drive to get highlighted.
Step 3:
When you see a highlighted drive, press Enter/Return key on your keyboard.
The default name of the drive transforms into a text box.
Type within the text box whichever name you want to give to that flash drive of yours.
This is an extremely simple method and is used similarly in the case of windows and Mac. Whereas, it might not work in some cases, so, instead of asking yourself that why can't I rename a flash drive on Mac, you should opt for another method, and follow these steps.
Method 2
If the first method doesn't work for you somehow, you can always rename your flash drive this way:
Step 1:
Plug in the USB drive in the USB port of the Mac.
Wait until the computer detects the storage device, and the icon for the flash drive pops up.
Step 2:
Make a right-click on the icon of the flash drive or press the command key along with clicking on the icon of the flash drive.
Open the drop-down menu.
Step 3:
Select 'Get Info' from the drop-down menu.
Now select 'Name and Extension', by clicking on the triangle given next to this option.
Step 4:
Now you will see a Name block.
Type the new name by clicking on the name block.
To finalize the new name, press 'Enter' or 'Tab'.
Finally, the new name given to your memory card or flash drive, is now permanent, even when you plug it in a different computer. Go through these easy steps and learn how to rename a flash drive on Mac.
Also Learn: How to rename flash drive in Windows 10