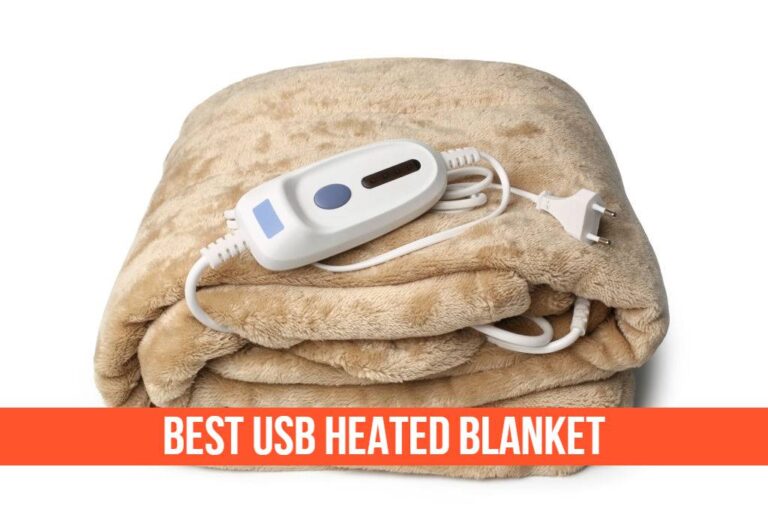 Best USB Heated Blankets
USB heated blankets are heated mattress pads that you can plug into the USB port including your laptop or computer. They are much like a conventional electric blanket but in fact, they are much better than the conventional blanket. They are more efficient and much safer than the normal blanket.
Some people have been using the same blankets for decades, and they're just as comfortable today as they were when you first got them. But there's no denying that it can be tough to find a good one these days!
Finding one that's lightweight, easy to clean, and super warm is even harder, as there are so many options out there! And of course, they're very expensive. You can't buy one on a whim because you might not like it, and there's no guarantee of what you'll get.
To solve this problem, we went on a mission to find the best USB heated blanket. There are hundreds of options out there, and we wanted you to have a great place to start your search! Our research team looked at all sorts of blankets, including the heating mechanism, materials used, size, and warranty, so that you could select the best from our top picks.
Best USB Heated Blanket – Our Picks
The best USB-heated blanket will keep you warm without breaking the bank or taking up too much space in your bedroom. You'll love how easy it is to use, and you'll never want to go back to regular bedding again! Here are some of our favorite picks for this winter season…
1. S'beauty USB Heated Blanket (

Best in the Low Budget

)
This is one of the best-heated blanket. It comes in three different sizes, so you can get whatever works for your space.
The controls are simple and easy to use. You just hold the button for a few seconds until you cycle through the temperature settings, and then it will start to warm up. It will turn off on its own when it reaches the desired temperature. We love that you can choose exactly how warm you want it to get.
The material is soft and comfortable, and the wires are not noticeable when it's placed on your bed. It can warm up pretty quickly, so you won't have to wait long to feel toasty.
The thing we liked about this blanket is that it is lightweight and easy to transport, so you can take it with you when you travel or move it between rooms in your home. It comes with a five-year warranty.
The shawl size is 34*23″ and it is big enough for most people, and it can be draped like a scarf or wrapped around your shoulders. It's the best of both worlds! The Heating size of 12*8″ is enough and with a three-stage adjustable temperature can meet all your needs.
It has the lowest voltage (5V 2A/3A), which means it's not too hot to handle. You can easily tuck it under your comforter or toss it over your shoulders without worrying about it getting too hot.
It is wonderful to snuggle up with because it's perfectly warm and not burning hot like some other options out there. It's made with carbon fiber far infrared heating, so you'll be toasty the minute it hits your body.
Check Price on Amazon
2. Z-YQL USB Heated Blanket
This battery-operated electric blanket is seriously well made. We love the fact that it has 3 heat settings so you can change it to fit your needs. It does take a few hours to heat up, but once it does it stays nice and warm all night long.
The USB heated shawl is a great way to stay warm on the go. When it comes to plush blankets, this one is really hard to beat.
It features a plush fabric that is silky smooth to touch and it heats up in about 3 hours on the low setting. It comes with a USB cord so it can be plugged into pretty much anything. If you need a nice soft blanket to keep you warm during the colder months, this is by far one of the best options on the market right now.
The highest temperature reaches up to 55 degrees Celsius so it's pretty hot. Its size is 48×31 Inches which makes it a great all-in-one travel blanket.
We recommend this blanket to anyone who travels a lot and wants to stay warm in their hotel room.
3. 7Buy USB Heated Blanket
This USB heated blanket is the best overall, but it's also not much expensive. It features a digital controller with 5 temperature settings and 3 timer settings for automatic shutoff.
The blanket is constructed out of micro-fleece, which means it's lightweight and not bulky at all. The material is very soft and the controller is small, making it easy to pack up and bring with you on a trip.
It was also one of the easiest to set up out of the USB heated blankets we tested. We found that this model kept us warm for about 4-5 hours on its high setting, which was sufficient for all of the tests we ran.
Its size is not very big, but this blanket is 34″ x 22″, which means it's long enough for two people to use at the same time (perfect for snuggling) and its heating size is 12″ x 8″.
This cordless heated blanket is the best overall. With its durable construction, digital controller, and two opposite controllers, it has a lot to offer. This blanket is possibly the most versatile one out of the USB heated blankets we tested, and it's also very affordable.
Check Price on Amazon
4. DalosDream USB Heated Blanket (

Best overall

)
The DalosDream battery heated blanket is one of the best-selling heated blankets currently available on the market. It has a lot going for it, from being the most deliciously soft blanket we've ever felt to having both a long USB cord and a battery pack. It's also one of the few blanket models that have a strap to keep it securely attached.
The soft fleece feels luxurious and looks great on any bed, and the heating technology is effective at keeping you warm. A great bonus is being able to turn it on and off using a foot pedal rather than having to fiddle with a power button. It has five heat settings and can keep you cozy warm for up to six hours on the lowest setting.
The blanket is lightweight and can be unrolled anywhere you wish to take it. We did discover that the battery pack was not designed to keep the blanket warm when unplugged; rather, it's meant to be used in tandem with the blanket.
This is another great choice if you're looking for a heated blanket and don't want to break the bank. The blanket measures 60″x40″.
Check Price on Amazon
5. Izeepe USB Heated Blanket
It has an impressive heating area, which is large enough for most people's needs. With a 300W heating element inside, this blanket's top-tier power provides efficient and fast warming for those cold nights. It is one of the best affordable USB heated blanket in all cordless heater blankets.
It comes with dual controls, one on each side of the blanket, which allows users to individually control either side. The product is made of 100% polyester which is both soft and comfortable against the skin. The blanket has a digital control on the top side, which features an on/off switch and four heat level settings.
The product measures 59.1″ x 77.2″ while rolled up, which should be just about the perfect size for most people to fit into their carry-on luggage.
Since it only weighs 1.55 pounds, it's also light enough to carry around with you anywhere. This USB-heated blanket works great for camping trips or any other trip that requires you to sleep under the stars.
Check Price on Amazon
6. Pop USB Heated Blanket
The pop USB heated blanket is a beautiful piece of technology. It's an electric blanket with two USB outlets built-in and then it has a headphone jack for you to plug in your mp3 player or whatever you want into it.
It's quite pop-able because the USB outlets pop out of the blanket so you can plug in your electronics. These are capable of outputting 5 volts at 1000mA each which is more than enough.
The 3 Heat Settings allow you to adjust the temperature of your pop USB heated blanket and the best part is that this thing heats up. Even the low setting is enough to keep you warm in a cold room.
The medium and high settings work even better and if you had both USB plugs in at the same time, they would heat up toasty warm within minutes.
This portable heated blanket has a very soft feeling plush exterior that is extremely cozy and comfortable. Its size (57" x 37") is perfect for throwing it on the couch to use while watching TV, using in bed to keep warm under the covers, or even just setting out on the floor in a corner somewhere to use as a little area heater.
Check Price on Amazon
7. S'beauty USB Heated Blanket (

Coffee Color

)
This cordless electric blanket is an electric blanket with two built-in USB ports. This means you can charge your phone at the same time you are enjoying the warmth on your bed. It has a three-grade temperature control design, ranging from 149 degrees Fahrenheit to 113 degrees Fahrenheit.
The temperatures are easily adjusted with the touch of a button. According to the manufacturer, this blanket heats up in about 2 minutes or less.
It is 34″ by 23″ and comes in many colors, including black, beige/off-white, navy blue, light grey, and coffee. It is compatible with most types of bedding, including cotton and silk sheets as well as memory foam toppers, mattress pads, and duvets.
Its 3 Heating Settings are controlled by the use of an auto-adaptive USB port. This is a safety feature that allows it to automatically adjust its power consumption by the USB device that is plugged into it. This prolongs both its heating capabilities as well as the life of the blanket itself.
Check Price on Amazon
How to Choose Best USB Heated Blankets – Buying Guide
When you are looking to buy a heated blanket, it can be very easy to get carried away by all the different brands and styles that are available to choose from. It is important to know the various types of blankets out there so you can get one that will meet your needs.
If you want the best USB heated blanket for yourself, you need to look for some important features that will make it work for you. You can use the following checklist to compare all of your options.
Heating time:
The best USB heated blanket will heat up quickly and evenly warm your bed or whatever area you are using it in. You can check the heating time in the product's description or in any reviews that people have posted online.
There are some blankets that take an hour to heat up, while there are those that heat up in just a couple minutes. If you have to wait for an hour before the blanket warms up, it makes the whole experience inconvenient and frustrating.
This is especially true for winter times when you want to get in your bed with a fresh blanket that has been warming up for a while. Go for a blanket that can heat up almost instantly so you don't have to wait around.
Heating Options:
You should also look for a blanket that has options to change the temperature. Having multiple heat settings is essential if you want to be able to control how warm you want the blanket to get.
There are blankets that have only one heat setting, while there are those that have multiple settings for different temperatures.
If you just want to be warm, a blanket with one heat setting will do the job. If you have any pets or children who may crawl under the blanket and get too warm, it is safer to go for a USB heated blanket that gives you more choices.
Construction:
It is important that you get a blanket that will stand up to repeated use. You should look for one that has a durable build and comes with a warranty. This will allow you to keep the blanket safe if any of the materials began to wear down or tear after a few months of use.
There are USB heated blankets out there made from materials such as cotton and polyester. These can be washed in a washing machine, which makes them easy to maintain and keep clean.
Also, a heated blanket made from materials such as memory foam will be more comfortable when you lay under it at night.
A USB heated blanket can be a great addition to any bed or room in your home. They are easy to throw over your body after a shower to keep you warm. It is also nice to have one around when you are working on a laptop during the winter or fall months.
These blankets are not only comfortable, but they can also be very useful during the cold months of the year.
FAQS
Q. Why should we use a USB heated blanket?
A. USB heated blanket is more convenient than traditional electric blankets. USB blankets can be used with mobile devices, laptops, and MP3 players while you are traveling or relaxing at home.
Q. How does USB heated blanket work?
A. The USB ports are plugged into the wall socket to get electricity, which heats the blanket to keep you warm and also charge the battery. It is as simple as that.
Q. How does a cordless heated blanket differ from a traditional one?
A. Cordless electric blanket is usually controlled wirelessly, meaning you can use it without the hassle of worrying about the cord. This is not only more convenient but also helps to keep your bed or couch free from the clutter caused by a cord.
Q. How do I clean the USB heated blanket?
A. There is a removable and washable blanket cover that you can remove for cleaning. The blanket itself should be wiped clean with a damp cloth.
Conclusion
USB heated blanket is a great invention that not only heats the bed effectively but also has replaced the traditional blankets. This blanket makes it easy for you to keep warm and stay connected. The best thing about these blankets is that they are compatible with most types of bedding and other equipment.
The DalosDream Blanket is the overall best USB heated blanket to buy if you have no issue with its expensive price. Its design and technology are very user-friendly and make it convenient to use. But if you are short on budget then S'beauty Heated Blanket is ideal for you.
We hope that our review article has helped you to find the product that suits your needs best. Comment below if you have any questions, we'd be happy to answer.
Also Read: