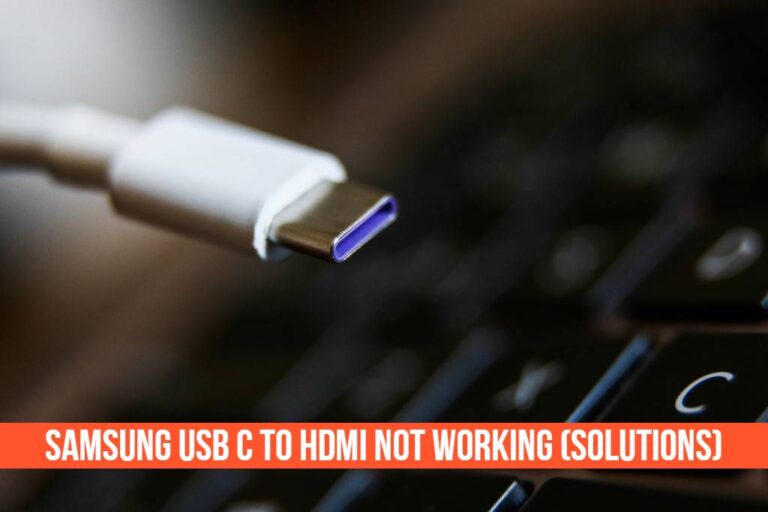 Samsung USB C To HDMI Not Working (Solutions)
USB-C is fast becoming the new standard connector for computers, mobile devices like Samsung, and more. One of the issues that you face with Samsung Type C devices is that Samsung USB c to HDMI not working properly, and this issue can be frustrating if you want to use your Samsung mobile with TV or Laptop via USB-C to HDMI connection.
The possible reason for Samsung USB c to HDMI not working is due to the wrong setup procedure or an incompatible driver version installed on your computer system. 
This problem can also occur because of many other reasons, which we will discuss in this article, and we will also provide you with the solution to fix this issue.
Keep reading this article and apply the solutions to troubleshoot the issue.
What is USB-C?
USB-C or USB Type C is a connector for computers, mobile devices, and laptops that have replaced the older standard USB port. It is one of the latest standards by "USB Implementer's Forum".
Common Reasons for USB-C to HDMI Not Working
There could be many reasons for the bad USB type c and HDMI connection.
Among the most common issues are:
1) An incompatible driver version installed on the computer system.
2) The USB-C to HDMI cable is damaged or not working properly.
3) In PCs problem could be because of the latest updates
4) MHL input is not enabled on TV
5) Viruses and Malwares in PC can also cause the issue
5) Faulty HDMI adapter
6) Faulty USB-C Port or HDMI port can also cause this issue
All of these reasons can cause Samsung devices not to detect smart TV or laptop with USB type-C.
How to fix USB c to HDMI not working issue – Solutions
Here are some of the troubleshooting steps that you should follow to fix this issue.
1) Incompatible Driver Issue:
An incompatible device driver installed on the computer system is one of the most common reasons Samsung USB c to HDMI is not working.
To fix this issue, you should uninstall the old or outdated drivers and install the latest driver version.
If you are using Windows 10, then the latest driver version available is the one published by Microsoft. So, go to Settings > Update & security > Windows update and install all the latest updates available.
For Windows 7/8/8.1, update the device driver by visiting your PC manufacture support website and install the right and latest drivers.
2) Check if MHL input is enabled in TV:
If you use a Samsung mobile and want to connect it with a TV, then you can use a Micro USB to HDMI cable.
This cable gives the same output as a regular HDMI cable and transmits both audio and video signals.
If you have connected the Samsung device to TV using an MHL cable, make sure that the HDMI input on your TV is set to use MHL as one of the inputs.
You should just go to TV options and enable the MHL/MHL2 input for the Samsung device's HDMI cable to work properly.
3) Check Cable and HDMI Connector:
Make sure that USB type c to HDMI Cable is working fine as sometimes the cable can also cause such type of connection issues.
You can try different cables for your Samsung device or buy a cable from an authentic online store.
Connect the cable to TV HDMI port and USB-C port on your device and see if it works.
4) Check System for viruses and malware:
Viruses and Malwares can also cause such connection issues between USB c type and HDMI cable.
For checking your computer system, you can use an antivirus or malware program to see if it detects any viruses. If you find out that your System contains some kind of virus, then you have to scan your computer system and then remove all the viruses from it.
5) Port Or Hub Issue:
If your USB type C port is not working properly, then probably the issue will keep occurring.
You can try connecting your Samsung device to other USB ports on the computer system and see if the issue persists. If it does not, then you should test the USB c to HDMI cable on another port. You can also test on other laptops or Systems to identify the cause of the problem.
6) Check MHL to HDMI Support:
Most of the new Samsung cell phones are coming with MHL to HDMI support. This feature allows you to connect your phone to your HDTV and watch videos. To connect your phone to the HDTV, you need an MHL cable.
An MHL Cable lets you connect mobile devices like Samsung Galaxy S8/ S8+/S7/S7 Edge, Note 5 to any HDMI supported TV or Monitors with the help of an MHL Cable.
If your phone is having an issue connecting to the TV via MHL cable, then you should check whether it supports MHL or not.
7) Get Your Phone Checked:
If all of the above USB c to HDMI not working android solutions are not working, you should get your phone checked by a technician.
They will check your phone to see if the issue is with the hardware or software. If it is with software, then they can fix it by updating the firmware.
FAQs!
Q: How do I get my USB-C to work with HDMI?
A: If you want to get your USB-C to work with HDMI or want to connect Samsung devices like S10/S8/S7/Note 8 to TV, you can use MHL to HDMI cable. This will help you get the best output from your device.
Q: Why is my USB-C to HDMI not working?
A: If your USB Type-C to HDMI cable is not working, then make sure that it matches the requirements. The USB Type-C to HDMI cable should support 4k resolution and at least a 60 Hz signal rate.
Q: How do I enable MHL on my Android?
A: If you are using a Samsung device, then make sure that you enable MHL/MHL2 as one of the inputs in your TV. You can check this article on How to connect an MHL device to a TV using an MHL cable.
Q: Why doesn't MHL work?
A: Some of the new devices do not support MHL, but you can solve this issue by getting an MHL to HDMI cable. You can also check your device for the latest update.
Conclusion
So, this is all on the issue "USB c to HDMI not working android". Make sure you go through all the solutions and select the one which you think will work for you.
If none of the solutions worked out, then get your device checked from a technician to see if there is any hardware issue or not.
You can also try the solutions given in the article with other data cables to see if it works for you.
We hope that you were able to resolve the issue by following this article. If not, then please leave a comment with your question or any other detail.