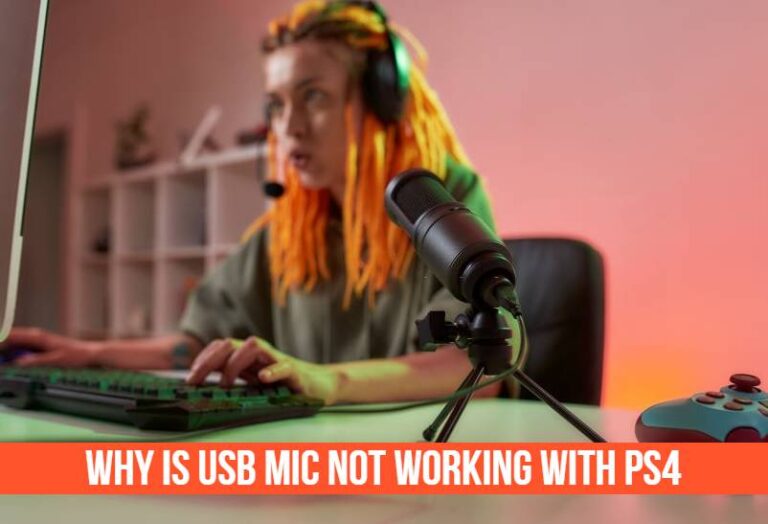 Why is USB mic not working with PS4? (Easy Methods to Fix The Issue)
Are you puzzled and asking yourself that why is USB mic not working with PS4? Well, almost every USB microphone can be connected and recognized by ps4.
If you are a serious gamer and you tend to stream your online gaming regularly, you might want a high-quality sound. Remember, when you use a microphone that's not a part of your headsets, it makes a huge difference, of course in a good way. A separate microphone isolates the surrounding noise, as a result, your fellow gamers will only listen to whatever you want them to hear. Moreover, nobody wants to hear you breathing through the mic, a good quality USB microphone will eliminate these sounds too.
However, many gamers still use a microphone incorporated with their headsets.  Anyways, sometimes you might face difficulties in listening to the chat audios; this means that your PS4 USB headset mic is not working properly. Let's quickly discuss how to fix this problem by following the step-by-step instructions given below.
How To Fix USB Microphone Not Working With PS4
Many times, the problem might be as little as the presence of dust or lint inside the USB slot. Even the headset is muted sometimes. These issues can be solved by cleaning the USB slot and unmuting the headset microphone respectively. However, in case these are not the problems, then let's see what else could be the fault and how to fix that.
Method 1 – Hardware Checking
If you want to figure out why is USB microphone not working with ps4, the first thing you need to do is to check if your device is not damaged physically. Once you are sure that the hardware of the headset is fine, check the microphone.
To check if the USB microphone has a fault or not, connect it to your mobile or your personal computer. Check if it works normally.
If both, the headsets and microphone are working perfectly with other devices, then guess what, it's the ps4 settings you should check upon.
Method 2 – PS4 Settings
Are you confused about why is USB microphone not working with PS4, but works perfectly with other devices like PC or mobile phones? Well, that means the microphone is fine, you need to log into your PS4 settings and see what needs to be done. Follow the given steps to fix the issue:
Step 1
Hop into PS4 settings by opening the PS home screen

Scroll up to the top bar and select 'Settings'

Select the options 'Devices'

Further select 'Audio devices'
Step 2
Select 'Input devices'

Now click on the option that shows your microphone that is connected to the controller
Step 3
Select 'Output devices'

Click on the option that shows your microphone which is connected to the controller
Step 4
Scroll down to 'switch output device automatically'

Unplug your microphone device and then plug it back in

Now Select 'Volume control'

Adjust the level up to maximum
Step 5
Select the option' Output to headphones'

Now click on 'All audio'
Step 6
Select 'Adjust microphone level', here you will adjust a slider, when you will speak, you will see a bar moving left and right.

The microphone will now be checked by the wizard, so follow the wizard.
The PS4 settings are properly configured following these simple steps. In step 6, when you select 'adjust microphone level', check if your microphone is being detected, if it is, this means that your USB microphone is working properly with the PS4 console.
Also Read: How to Connect USB Headset To PS4
Microphone not Working with PS4 Fortnite
All set for Fortnite, but friends cannot hear you? Is your USB mic not working with ps4 Fortnite? First of all, make sure that your mic is plugged in properly and it is not physically damaged.
If the microphone is alright and the connection with PS4 is proper, you need to switch over to in game settings, Follow the below steps and enjoy the interaction with gamer friends in Fortnite.
Select 'Options'

Now click on 'Settings'

Select the option 'Audio Settings'

Scroll down to the 'Voice chat'

First turn it 'off', and then turn it 'on'

Now select 'voice chat' method

Click 'open mic'
This will enable your interaction with your team, however, if it is still not working, then go back to the lobby and follow these steps:
Open 'Quick menu'

Select 'Party'

Now select 'Create Party'

Press and hold down the PS button once again

Go to the 'Quick menu'

Select 'Party'

Now click on 'Game chat'
Finally you will be able to enjoy the Fortnite experience at its peak because now you will hear and communicate with your buddies without any hurdles.
Conclusion
In this article, we have tried to explain that 'why is USB microphone not working with ps4?'. Here in this guide, you will find the proper method of how to fix your USB mic connected with ps4 explaining to you what exactly happens when a microphone connected to ps4 does not work.
Hope this guide has been helpful and clarified some of the questions in your mind, if you have any further question, feel free to leave a comment.