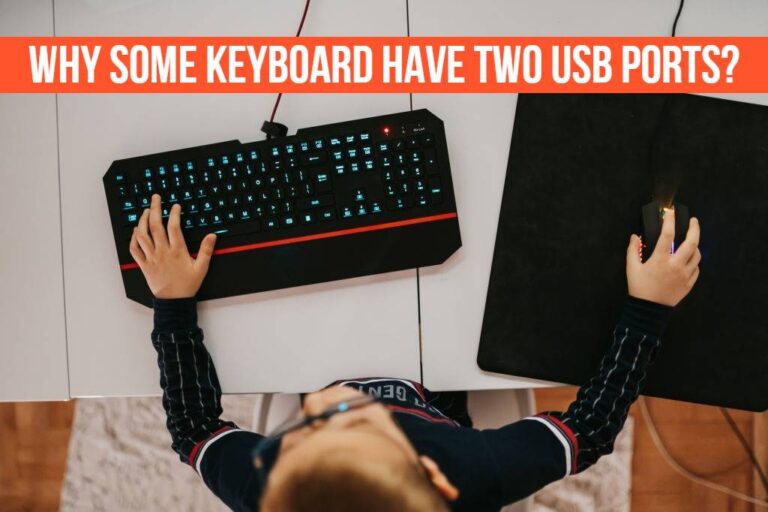 Why Some Keyboard Have Two USB Ports? (Explained)
Why does my keyboard have two USB ports when it can go perfectly fine with only one? Do you wonder about this often? Well, let me help you say farewell to your confusion in this regard.
So, you see two USB ports in your keyboard, one of these ports is for keyboard's power while the other one is for extension cord through which you can plug in a number of devices, like a mouse and etc.
Importance of Two USB Ports in Keyboard
Generally, a keyboard has one ports for USB connections, but today's keyboards not only have the basic USB port; many of them also offer a pass-through USB port. This essentially means that you can connect a single USB cable to the keyboard and have it come out as two cables. The second cable is great for plugging in flash drives, printers, cameras, USB speakers, or any other device that can be plugged into a USB port.
When the keyboard contains more than one port for USB, more than a single device can be linked to the system. For example, if you have a printer or Webcam that you want to plug into your computer, there is no need to invest in a USB hub. You can simply use the one extra USB port of the keyboard for plugging in your desired device.
What is Keyboard USB Pass-Through?
Sometimes you need to connect an additional USB device, such as a USB hard drive, to your computer. In such cases, a USB port called USB pass-through is used. It is particularly easy to access and usually requires an additional USB connection to a computer in order to supply enough power to the connected devices.
So, if you are still confused about what is keyboard USB pass-through is, then you can take it as a female USB port on a keyboard that is meant for plugging in other devices, like a mouse, speakers, etc.
There is no doubt that the USB pass-through in a keyboard is a very helpful feature, the benefits provided by this feature are as follows:
It is fairly easy to access due to less distance from the PC
This feature, that is, USB pass-through, is normally found in high-end gaming keyboards, where you are required to plug in various devices.
This feature enables the connection of devices that has shorter cables
It makes your keyboard desk look neat, as you don't have to connect multiple cables and cords all the way to your computer.
The USB pass-through is normally used for the following devices:
USB hard drive
Headphones
Camera/Webcam
Mouse
Microphones
Speakers
Or any other USB devices.
No doubt, this is a very helpful feature, however, nothing is perfect, and similar is the case over here.
The keyboard USB pass-through has few drawbacks as well, like:
Customized USB cables can't be used with it
You cannot move the keyboard around
Keyboard will have a non-detachable power cable due to which repairing is difficult as it will be hard to move the keyboard
So, if you have decided to keep the keyboard at the same place for a long time, this is really helpful for you. However, many PC users prefer detachable cables, thus, they are not in favor of this feature.
In addition to this, many keyboards may have more than one USB pass-through. You must be wondering what's the purpose of a keyboard with two USB pass-through. Well, many keyboards like DAS, has multiple USB ports which allow multiple devices to connect to the computer simultaneously. Mostly, these types of keyboards are used by the gamer who needs to connect several devices to the PC at the same time, like microphone, speakers, mouse, they need them all to enjoy their gaming experience to the fullest.
Most keyboards have only one USB pass-through, whereas, sometimes it is required to add more USB ports to the keyboard so that more devices can be connected. In such cases, a USB hub is used.
What is a Mechanical keyboard with a USB passthrough?
A mechanical keyboard with USB passthrough will have extra ports that allows the connection of several devices. If you are into gaming then it is one of the best keyboards to have.
It provides you with a dedicated USB port for plugging in your mouse or headset, so that you no longer need to worry about the distance between the port and your computer.
Mechanical keyboards with USB passthrough is thus very helpful, but if you are not into gaming, then it is better to choose a plain keyboard that doesn't come with extra ports.
Conclusion
So, this is all about the keyboard USB pass-through. It is a very helpful feature for everyone who loves to connect devices like speakers, mouse, etc. However, this feature has several limitations as well. This is the reason why some people are not in favor of it.
The most important thing to consider here is the usage of USB pass-through. As mentioned above, this feature is highly favored by gamers. If you are a gamer, then it is necessary to opt for a keyboard with a USB passthrough. This will make your gaming experience even better.
We hope that this article has helped you to understand the importance of a keyboard with two USB ports. And if this is what you were looking for, then do remember to share it with your friends and family members.
Also Read: What is use of double sided USB Cords